For sales enquires and other enquires about our No.1 product please E-mail us or Phone our shop.
Micro Dingo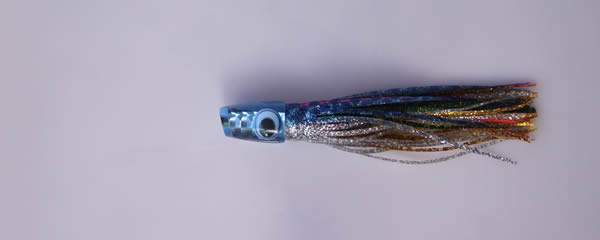 Micro Dingo - Has proven itself to be the Number One Lure for Southern Bluefin Tuna in Australia with fish to 150 Kg plus.

Length: 175mm/7"
Tackle: 6 Kg - 24 Kg
"As a dedicated skipper and sports fishing writer for "BlueWater Boats and Sportsfishing" magazine, the testing and designing of new lures has been an exciting step in my sports fishing career. The array of brands and types of lures on the market are endless but none have impressed me more than the JB Lures range of skirted lures. I've tested these lures on one of the toughest and most elusive species found off Australia's southeastern coastline, the Southern Bluefin Tuna, with extraordinary success, especially when targeting the XOS SBTs encountered in South Australia, Victoria, Tasmania and southern NSW. Ever since I introduced the JB Lures Micro Dingo to the local Tasmanian fishos they have accounted for more captures of 100kg plus SBTs than all the other lure brands combined, and have increased catch rates substantially. I have personally witnessed how effective they are when the larger SBTs are reluctant to take anything offered to them, with the Micro Dingoes being the only lures raising and catching Jumbos! The quality of JB Lures is second to none with each lure head being individually handcrafted by master lure maker Dave Venn, they are perfectly balanced and come in almost any colour to suit the skirt patterns which are easily matched against the hatch so to speak."
Captain Richie Abela
"Dream Catcher" and "Dream Catcher II"
Melbourne, Australia
---
Little Dingo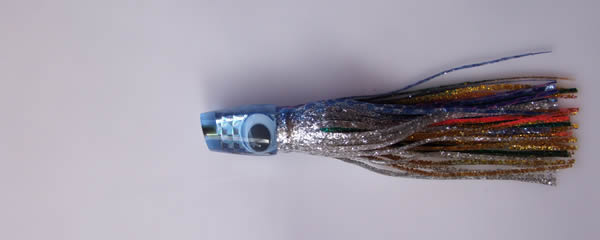 Little Dingo - The Number One Yellowfin Tuna Lure in the World! It also has the World All Tackle Record for Southern Bluefin Tuna - 167 Kg.

Length: 215mm/8½"
Tackle: 10 Kg - 60 Kg
---
Dingo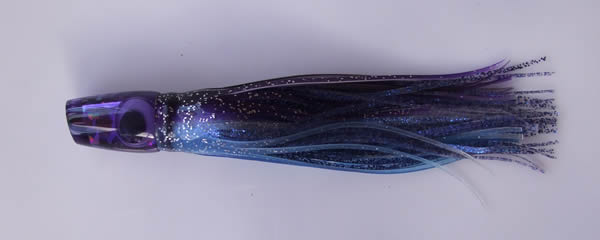 The Most Hydrodynamically Efficient Lure Ever Created!
The most productive lure ever to swim in Australian waters!
Created in 2004 by Dave Venn, the Dingo has been a sensation! Continually rewriting the record books! Variously described by fishing writers as a "Better Mousetrap", "The Wheel Reinvented", "The Holy Grail of Lures" etc. in it's short life the a Dingo has claimed the Heaviest Gamefish in Australian Waters 4 times, Heaviest Gamefish on any line class up to 60kg in NSW Waters 4 times, Heaviest Gamefish on 37kg in NSW Waters 5 times and Heaviest Gamefish on 24kg in NSW Waters 3 times!
The record breaking continues, the Heaviest Marlin ever caught off Sydney, 361.1kg Blue, the Australian record equalling Blue Marlin, 284kg on 24kg off Sydney, the Australian and NSW Junior 37kg record, 246.5kg Blue Marlin and more than $400,000.00 in tournament trophies!! in NSW Tournaments alone the Dingo (as of 1-3-2016) has won Heaviest Marlin 19 times, Heaviest Yellowfin 20 times, Most Marlin T/R Boat 14 times and Most Yellowfin T/R Boat 17 times!!

Length: 255mm/10"
Tackle: 15 Kg - 60 Kg
---
Big Dingo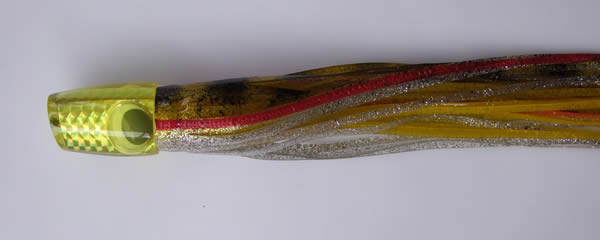 This lure is a Blue Marlin magnet! Four (150kg plus) Blue Marlin T/R by the same angler in one day on the same black and green Big Dingo to win the 2011 Kiama Big Fish Classic!! At least five 300kg Blues T/R on the evil Big Dingo off the QLD/NSW coast since 2009!! Plus Yellowfin to 70kg plus!!

Length: 330mm/13"
Tackle: 24 Kg - 60 Kg
---
Giant Dingo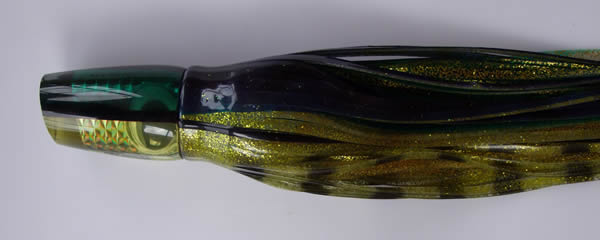 New for 2008, this is for heavy tackle and big Marlin, can't wait for the results!.

Length: 420mm/16½"
Tackle: 37 Kg - 60 Kg
---
The Dingo's Gallery!
For sales enquires and other enquires about our No.1 product please E-mail us or Phone our shop.