JB Lures Testimonials.

For sales enquires and other enquires about our No.1 product please E-mail us or Phone our shop.
Our World Wide Testimonials...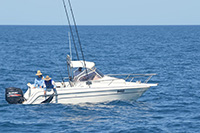 "For the last four years we've been using JB Lures almost exclusively and with outstanding results on all species of gamefish. We've been having great success on blacks and blues fishing heavy tackle with a JB Lures 10"Medium Chook and 10" Dingo on the riggers,10" Pluto in shotty, 14"Chopper on the long corner and a 15"Donger on the short corner, even the smaller lures when rigged with the heavy leader and hooks retained their fish raising action and ability!!"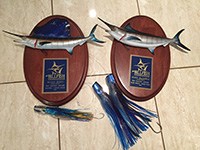 "The clarity and finish of the crystal clear resin is awesome! Sails and baby blacks love the 8" versions of the Chook and Dingo and the 10" Pluto when they're rigged with a single fine gauge hook and light leader. These lures are perfectly balanced and weighted, made by a true craftsman that knows his trade, not an injection moulding machine! Thanks Dave for giving us the winning edge!"
Scott MacGowan,
Skipper of 'The Wench'
King Bay GFC, Dampier, W.A. Australia.
---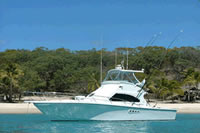 "After pulling JB Lures for the last 15 years they're the only ones I recommend to my clients, whether I'm fishing for marlin or tuna I only use JB Lures. They're deadly on big blue marlin, striped marlin, yellowfin, albacore and southern bluefin tuna, especially the Dingoes, Rippers, Chooks and Choppers."
Captain Jeff Brooks,
Aspro Charters,
Batemans Bay Australia.
---
"Dave's lures are one of a kind, these lures are made with great detail and precision. We have caught marlin from the Pacific Ocean through the Caribbean and all the way up to Bermuda with JB Lures. Not only are they outstanding lures for marlin, we have caught many other pelagics on them as well!"
Captain Richard Peeples,
'Seraphim'
Miami, Florida USA
---
"As a dedicated skipper and sports fishing writer for "BlueWater Boats and Sportsfishing" magazine, the testing and designing of new lures has been an exciting step in my sports fishing career. The array of brands and types of lures on the market are endless but none have impressed me more than the JB Lures range of skirted lures. I've tested these lures on one of the toughest and most elusive species found off Australia's southeastern coastline, the Southern Bluefin Tuna, with extraordinary success, especially when targeting the XOS SBTs encountered in South Australia, Victoria, Tasmania and southern NSW. Ever since I introduced the JB Lures Micro Dingo to the local Tasmanian fishos they have accounted for more captures of 100kg plus SBTs than all the other lure brands combined, and have increased catch rates substantially. I have personally witnessed how effective they are when the larger SBTs are reluctant to take anything offered to them, with the Micro Dingoes being the only lures raising and catching Jumbos! The quality of JB Lures is second to none with each lure head being individually handcrafted by master lure maker Dave Venn, they are perfectly balanced and come in almost any colour to suit the skirt patterns which are easily matched against the hatch so to speak."
Captain. Richie Abela,
'Dream Catcher' and 'Dream Catcher II'
Melbourne, Australia
---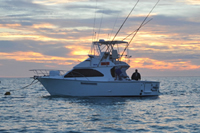 "When I'm chasing blue marlin off the West Coast of Australia there are no other lures in the spread, only JB Lures, Dingoes, Choppers and Rippers!"
Captain Dan O'sullivan,
West Coast Billfish Charters,
Exmouth, Western Australia.
---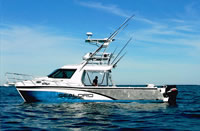 "As the owner and skipper of Sealord Charters, I'm always looking for ways to maximise our chances of hooking the best fish for our clients. For years now we have been using JB Lures, as they give us the advantage we are seeking and keeping our clients happy, thanks Davo!"
Captain Dean Popovic,
'Sealord'
Botany Bay, Australia.
---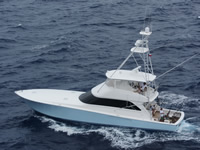 "After purchasing a spread of JB Lures in July 2010, I'm converted, they're great lures, I love them but more importantly the fish love them, especially the Dingoes and Rippers!! I wish I discovered them fifteen years ago, I would have saved a fortune in fuel and won a heap more tournaments!!"
Captain Allan Legge,
'High Cotton'
Galveston, Texas USA.
---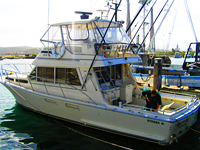 "I've been using JB Lures for a few years now and when I lose one I only replace it with another, the same as the one we lost.I've had great success with the 10" Dingoes and the 12" Chooks. But the big blues really love the 13" Choppers in pink and lumo, my last pink one is still swimming behind a huge blue marlin and I'm anxiously awaiting the arrival of two more!"
Captain Grahame Williams,
'Head Hunter'
Bermagui, Australia.
---
"I've been running JB Lures for six years now, behind several different boats of all shapes and sizes here in Kona, and their top water action and ability to raise fish has always been true. From Pacific blue marlin, huge Ahi(yellowfin), to the aggressive Mahi Mahi and Ono (wahoo), they all love JB Lures, and I'll keep using them in my pattern."
Todd Barrett,
'Mamajo'
Kona, Hawaii.
---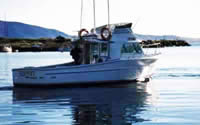 "Having 34 years experience running fishing charters out of Bermagui on "Esprit", and the past two seasons skippering both 'Esprit' and 'Headhunter', the only skirted lures I use are JB's, I have identical spreads on both boats! Striped Marlin love the Evil Dingo, Stripey Ripper and the Pink Chook, Blue Marlin are suckers for the Chopper and Big Dingo, Yellowfin find the Lumo Little Dingo irresistible, big Yellowfin the Evil Dingo , Southern Bluefin Tuna the Little Dingo in Saury and black and purple. But the lures that have saved my day are the Micro Dingoes in blue and pink, when nothing is biting out wide, the Micro Dingoes are deadly on the Kingfish at Montague Island!!"
"After 34 years in the game, my lovely wife Jenny and I have decided to retire from the charter business, though I'll still be keeping my hand in as a relieving captain. We're both really looking forward to travelling, and I have a bag full of JB Lures packed for our next trip to Lombok! Both "Esprit" and "Headhunter" and their charter licences are now for sale at very reasonable prices, interested parties can phone me on 02 64934104, cheers, Lloyd."
Captain Lloyd Williams,
'Esprit' and 'Headhunter'.
Bermagui,NSW. Australia.
---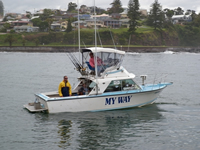 "Having JB Lures in the spread always gives me confidence that if there's a marlin about they'll not only come into my pattern, but a hook up is pretty much guaranteed, even with small stripes. The Dingoes on the riggers and shotgun, plus a Ripper on the long corner and my pet evil Chopper on the short corner bring the marlin up close for a graphic close up strike! It's always good to see a marlin lit up and eating your JB Lure!"
Mark Way, President Kiama GFC,
Skipper of 'My Way' and 'Sea Eagle'
Kiama, Australia.
---
"In our time fishing the New South Wales south coast, it was a given that when trolling for marlin we would have a pink Chook, evil Dingo and stripey Ripper in our spread, and the damage done to the head and the bill marks on those lures ( the ones we didn't lose) speak for themselves! We're now fishing out of Karratha and Exmouth and the JB lumo Smoking Gun and the Dingoes in pink and blue have proved to be the undoing of plenty of black marlin and sailfish in these waters. These lures, fished from the riggers have given us great results and combined with a 13" green evil Dingo and an evil Chopper on the corners have worked really well on the blue marlin at Exmouth. The handcrafting and polishing if JB Lures is second to none, and if you want results make sure you have a few JB Lures in your spread at all times - - - - especially the 12" Pink Chook , an awesome lure!"
Steve Sharpe,
Skipper of 'Enforcer'
Karratha, Western Australia.
---
"In the last two years the JB Micro Dingo has accounted for more Jumbo Bluefin in southern Tassie than any other lure by far, including my PB last season of 144kg. Its my "go to" lure every day."
Captain Stuart Nichols,
'Big Pig'
Eaglehawk Neck, Tasmania, Australia.
---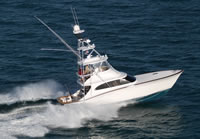 "Great Lures! The darker coloured lures have proven themselves in the Bahamas, especially the 11"Smoking Gun (in Frigate),10" Ripper (in stripey) and the 10" evil Dingo, while the 8" lumo Dingo catches everything. Its good to work with Dave, he gets your personalised lures to you quickly although he's on the other side of the world! I love his work and show off his lures every time I can."
Captain Eric Torano,
'Triple F'
Coconut Grove, Florida, USA.
For sales enquires and other enquires about our No.1 product please E-mail us or Phone our shop.