Our History.

A Brief History of JB Lures.
| | | |
| --- | --- | --- |
| David "Soss" Harrison (with stubbie) and the "DMS" Crew with the 180 Kg Blue Marlin that completed the first Grand Slam in the World in the New Millenium. The Crew had already Tagged 3 Striped Marlin and a Black Marlin!! All the Marlin were caught on Chooks and Rippers. | Dave Venn with the 235 Kg Black Marlin (Still the existing NSWGFA 24 Kg Record) that won the 2000 White Sands Tournament. The Black ate a 13" Stripey Ripper. 2000 - 2001 NSWGFA Milton Kent Trophy for the Heaviest Gamefish on 24kg. | Dave Venn with one of the many Blues he has brought to the boat. Unfortunately this 225.2 kg fish had to be taken after inhaling a 10" evil Dingo, taking out the 2004-2005 NSWGFA Milton Kent Trophy for the Heaviest Gamefish on 24kg. |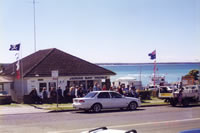 Since 1993 JB Lures have been available to anglers exclusively through firstly Huskisson Hardware then Jervis Bay Tackle. Since 2004 JB Lures have also been available from leading specialist game fishing tackle shops. Originally sold under the "Greenies" Badge, the original lures were created in 1987 - 1992 by Dave Harrison and Mitch Green, with testing and design input from Dave Venn. Originally created because Hawaiian lures (Joe Yee and Marlin Magic) sold by Dave Venn at Huskisson Hardware (later Jervis Bay Tackle) weren't heavy enough for the usually windy conditions off the south coast of New South Wales, Australia. And the cupped face lures available weren't able to be pegged (Striped Marlin hooked up much better on lures when the hooks are accented, impossible with cupped face lures).
After gaining a tournament winning reputation, demand out stripped supply so Dave Venn took over production in 2003 and has increased the range. All shapes are original designs from Dave Harrison and Dave Venn.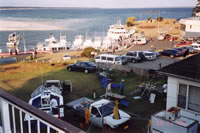 All lures except the Rooster are weighted and balanced so the face of the lure is in line with the belly weight. The belly weight helps keep the lure in the water when it's windy but also stops them rolling when they breathe, and makes their action a bit more aggressive. Dave uses the best clear casting resin available (NSR), real abalone shell, super reflective prism tape and the best quality skirts - Yamashita, Yozuri and Ocean lure concepts.
After turning and sanding the lures on a lathe Dave then cuts the face, polishes the lure on a lapidary polishing wheel, this gives the lure their superb finish. Remember, each lure head is hand made individually by Dave, so if ordering customized lures (Boat names etc. on insert - custom colours) give him a little time to get them to you. He likes to go fishing too!
| | | |
| --- | --- | --- |
| Dave Venn with a 210 Kg Mako Shark on 15 Kg Line. This Fish was not caught on a JB Lure, it ate a 3 Kg Striped Tuna. 24-09-2005 | Angler Dave Venn with the Heaviest Yellowfin Tuna in the 2007 Canberra GFC Yellowfin Tournament held out of Bermagui. At 70 Kg the Fin ate a 10" Evil Dingo. | Dave Venn released this estimated 250kg plus Blue Marlin on 37kg (23/2/2014) during the run of big blues off Jervis Bay in early 2014, it munched on a 13" black and green Dingo. |
Game Fishing Tournaments Sponsored By JB Lures.
JB Lures are proud to sponsor the following tournaments and their host clubs:
Billfish Blast - Exmouth Game Fishing Club.
Eden Open - Eden Sport and Gamefishing Club.
Merimbula Open - Merimbula Big Game and Lake Anglers Club.
White Sands - Jervis Bay Game Fishing Club.
Blowhole Big Fish Classic - Kiama Game Fishing Club.
ANSA Nowra Convention - Nowra Sportfishing Club Inc.
Wollongong Open - Wollongong Game Fishing Club.
Bill Heyward Memorial - Botany Bay Game Fishing Club.
Hot Current - Coffs Harbour Game Fishing Club.
Fraser Island Classic - Hervey Bay Game Fishing Club.
Dampier Classic - King Bay Game Fishing Club.
Fiji Islands Game Fishing Classic - Denarau Game and Sports Fishing Club.
Annual Yellowfin Tournament, Bermagui - Canberra Game Fishing Club.
Central Coast Bluewater Classic - Central Coast Game Fishing Club.
Marlin Blast - Exmouth Game Fishing Club.
Big Fish Bonanza - Lake Macquarie Game Fishing Club.

For sales enquires and other enquires about our No.1 product please E-mail us or Phone our shop.